---
REPORTS: Easter 1999
12th Easter Ride of the MCLB for the Berlin Leather Meeting 1999 to the Spreewald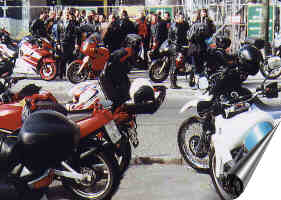 Once again the MCLB organised the traditional rallye at the easter leather meeting in Berlin:
Superbe springtime weather made about 40 people meet with their motorcycles for the tour scheduled for Saturday, 10:30 am. Guests from far away were seen due to the unusual mild climate.
While common hello took place under the new flag, meal orders were registered and photos were taken all the time. Press was present with a photograph of the Siegessäule.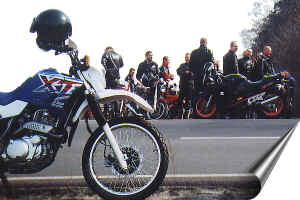 This year, we had prepared a tour to the Spreewald (map). The route out of town was a bit complicated due to the choice of an obstruction-free route, but nobody got lost there. No problems came up during the tour through the fresh green of the trees along the Brandenburg roads.
Schlepzig is a nice village in the Spreewald area. The first storks had just arrived. In the restaurant "Zum Unterspreewald" in Schlepzig the meal was served. Besides the soup Soljanka - typical in Brandenburg - three meals were available. Finally, a speciality of the region was served as dessert: "Eierplinz".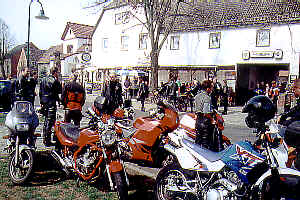 In a group of that large size, technical problems are unavoidable during such a tour: has anyone before solved such using handcuffs to fix exhaust pipes ?
Those who did not want to leave at arrival back in Berlin were invited for coffee and cake at Wolfgang - nine cakes were waiting for hungry guys.

Easter 1998
---